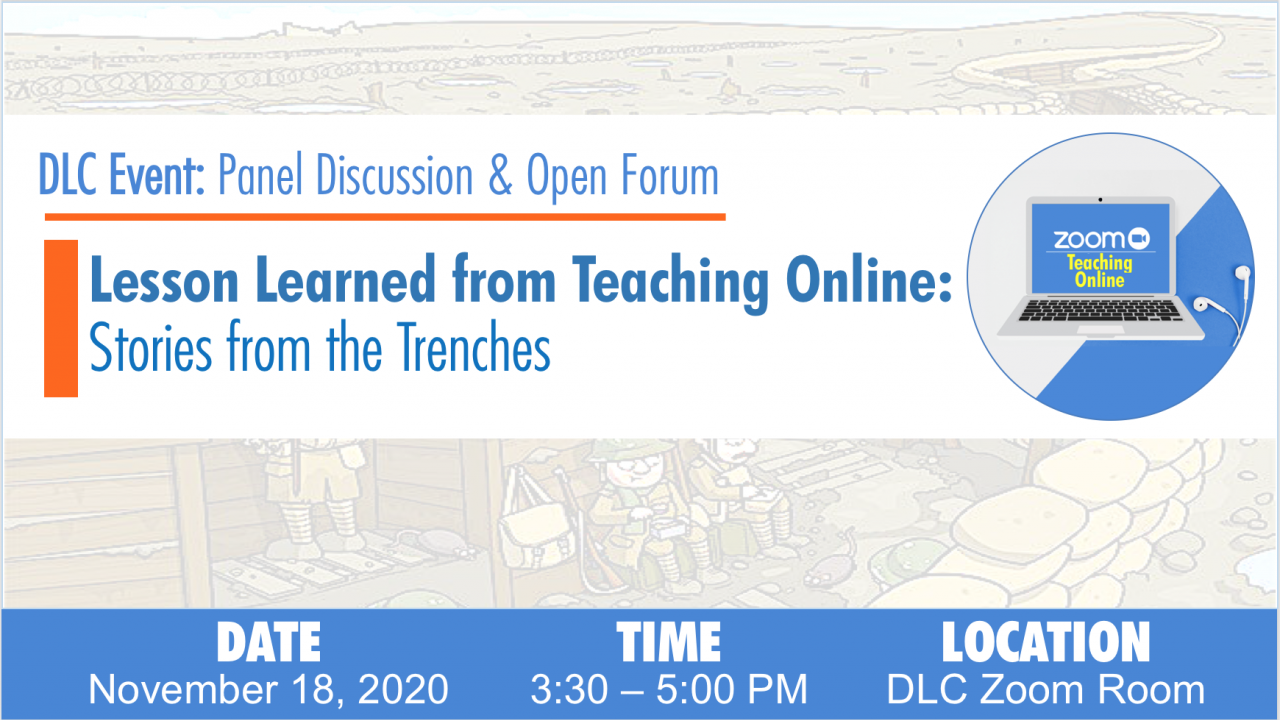 Location
DLC Zoom Meeting Room
Title: Lesson Learned from Teaching Online:  Words from the Trenches.
Time: November 18, 2020 @3:30PM-5PM
Location: DLC Zoom Room (https://ucdavisiet.zoom.us/j/4070606225)
A panel of  six language TA´s/Instructors from Arabic, Chinese, French, German, Japanese, and Spanish will share one brief story about their online experiences, followed by an open forum.  Please join us and celebrate our language teaching community.  
Greg Redmond (German):  
How to challenge most students without overwhelming some of the other students, as well as how to ask students to answer questions/speak German in class.
Shayma Hassouna (Arabic):
Maintaining Student engagement in (zoom?) class.
Paloma Fernández (Spanish):
The problem of creating a classroom culture and fostering student-student and student-teacher relationships in a virtual environment. Student-teacher I found easier than student-student.
César Hoyos (Spanish):
I'd like to talk about building rapport/trust with students in online spaces through the use of feedback that focuses on fluency. Another topic that is related and worth discussing would be helping students build their linguistic self-esteem through feedback as well.
Kyle Patterson (French):
Taking advantage of what technology has to offer various aspects of language learning and not attempting to recreate the face-to-face classroom.

Miyo Uchida (EALC)
My topic would be "Let's discuss the benefits of Zoom: Pros and Cons"